Send a Disadvantaged Child to the Theatre
Without Patch Theatre the next generation of theatre audiences will lose a chance to spark their curiosity and experience the wonder that only live theatre can provide.

A little support means a lot. A tax deductible donation of $10 will enable a single disadvantaged child to experience theatre, often for the first time.
Thanks to the support of the James & Diana Ramsay Foundation and our donors we are able to provide free and subsidised tickets to over 3,000 disadvantaged students a year.

Cost is the biggest barrier to children attending a show, meaning many children miss out on this formative experience.

Support from donors enables us to send students from the most disadvantaged schools across SA to the theatre.

Just $10 will enable a disadvantaged child to experience the magic of theatre, often for the first time.

$10 sends a child to the theatre

$300 sends a class of students to the theatre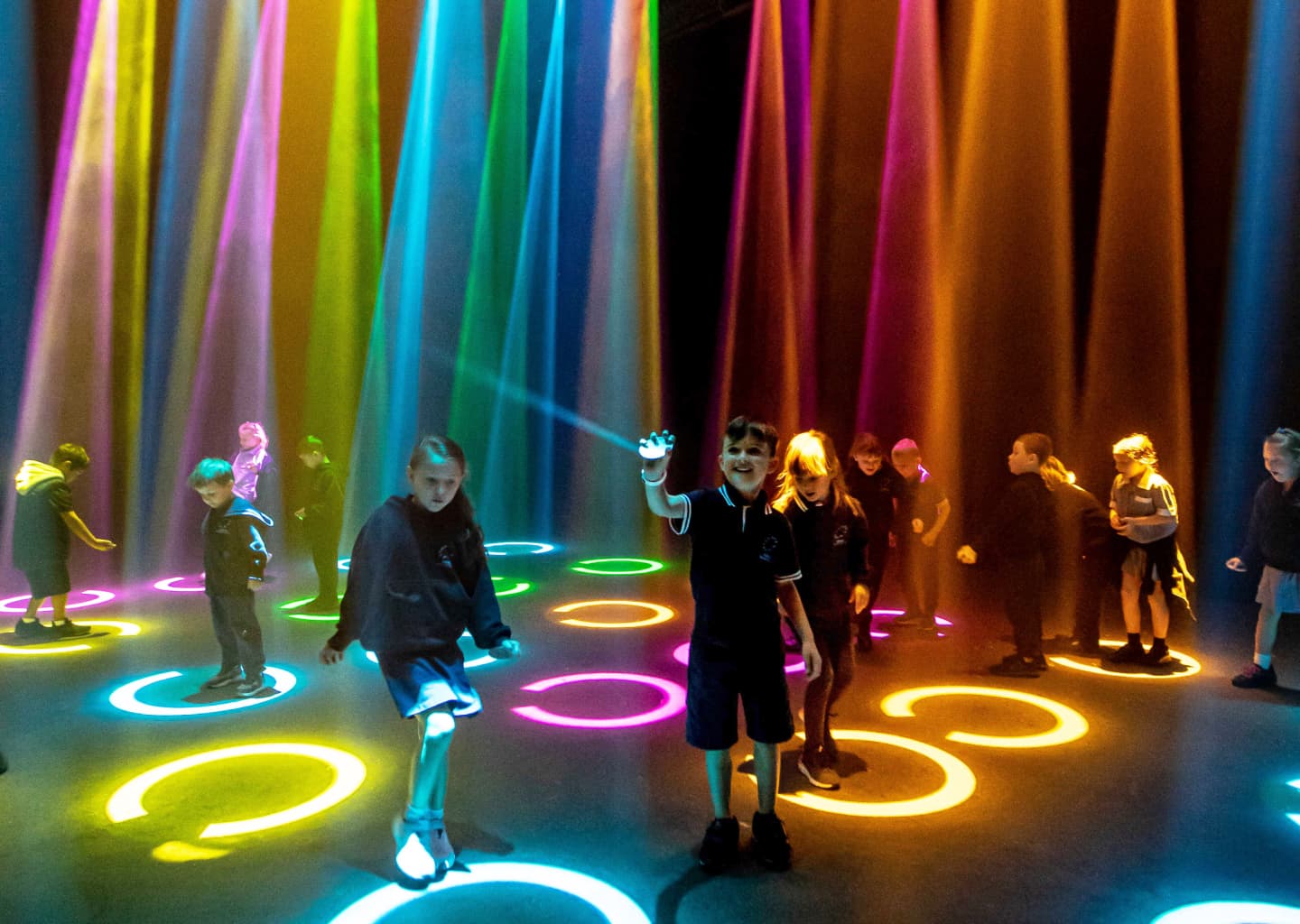 "We had so much fun...painting with light"
Kristie, mother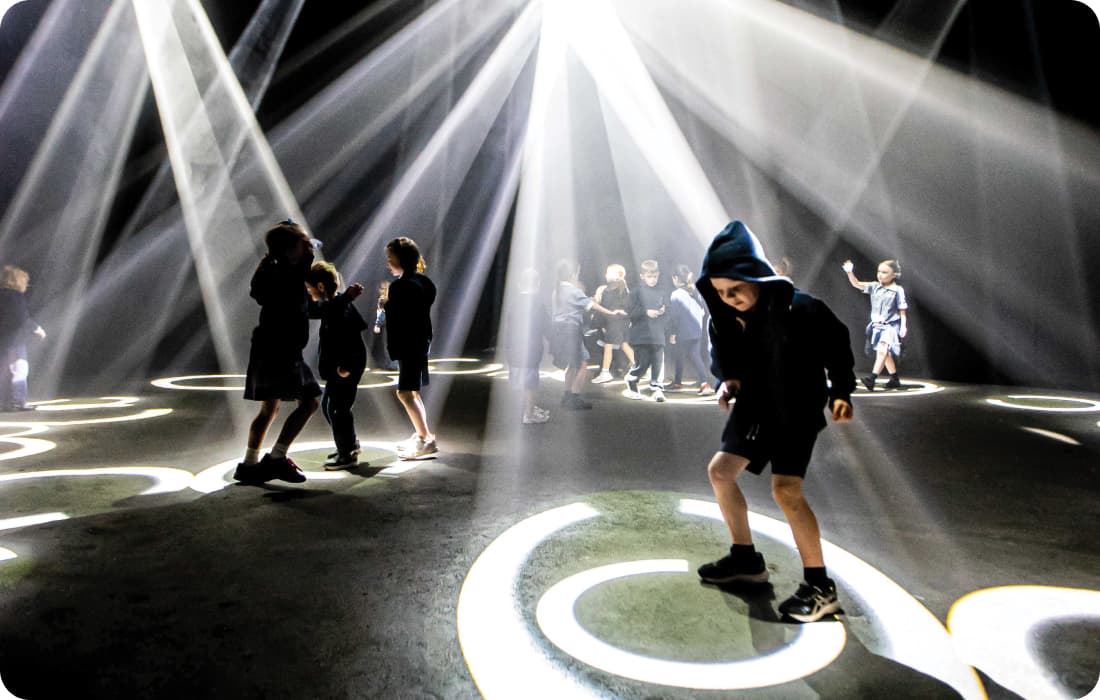 50 Years of Patch Theatre!
At Patch, we create theatre that engages and excites children by exploring the world from a child's point of view. We work closely with children, artists and educators to create unique performances, tailored to young people.

Two million children around the world have experienced a Patch production.

Each year we perform to 40,000 children including those experiencing financial and geographical disadvantage.

In an increasingly changing world, it is vital for Patch to continue offering first theatre experiences to young audiences, exciting their imaginations with the magic of theatre, and inspiring the next generation of artists and audiences.

As Patch turns 50 in 2022, we invite you to join us in celebrating this important milestone by contributing to the making of new exciting experiences, allowing our young audiences to see the world around them in a new light.

Your support will enable Patch to continue to deliver world-class theatre around the globe which captures the curiosity of a child, wraps it in magic and ignites their imagination.
Partners
With support from FWH Foundation, Lang Foundation and an anonymous Foundation.
Individual Donors
Samuel Ade
Elizabeth Aldous
Julie Almond
Suzanne Andrew
Susan Armitage
Jessica Bampton
Angela Basedow
Caitlin Bate
Karen Bellchambers
Carolyne Bird
Ali Bollard
Rob Brookman AM & Verity Laughton
Chris Brooks
Robyn & Dave Brown
Penny Camens
Peter Campbell
Elaine Chia
Sarah Coffey
Louise Cornelius
Kylie Covark
Tracy Crisp
Tess and Cav. Maurice Crotti AO
Mimi Crowe
Lisa Draper
Steph Drew
Chris Drummond & Susannah Sweeney
Russell Duncan
Edna Dunstone
Jason Dunstone
Kiah Elsworthy
Mary Eriksen
Kendall Felix
Cate Fowler
Mandy-Jane Giannopoulos
Grant Hancock
Wendy Haydon
Lynette Head
Rachel Healy
Hither & Yon
Ruth Hundertmark
Amy Ide
Christina Jang
JP Media
Athena Kambanou
Deborah Kingsbury
Kym
Diana Laidlaw AM
Jonathan & Laura Law
Delysia Lawson
Phil Le Cornu
Boram Lee
Tanya Lehmann
Helen Lindstrom
Mark Livesey
Jessie Lumb
Joan Lyons
Kathie Massey
Jean Matthews
Angela McGhee
Michelle Morris
Sandra Mullins
Beth Neate
Lesley Newton
Zenna Nixon
Novatech
The Hon Margaret Nyland AM
Lucille O'Loughlin
Robert O'Shea
Larry Opie
Alexandra Owens
Georgia Petrou
Phillips Family
Robert Pontifex AM
Judy & George Potter
Ron Radford
Melanie Selwood
Angela Sharp
Anne-Marie Shin
Hon. Robert Simms MLC
P & S Smith
Johannah Somfleth
Nicholas Swan
Elizabeth Usher
Tarnya Van Driel
Amanda Vanstone
Sandy Verschoor
Amy Viselli
Tricia Walton
Jordan Wallis
Nick Warden
Amanda & Jay Wheeler
Miriam Whitford
Elizabeth Whittaker
Jennie Window
Janet Worth
Penny Wright
Louise Young
Anonymous (2)